Georgia Cormick has been playing for the Melbourne Rugby Club since 2013, playing the majority of the backline positions, with halfback being her specialty. Georgia was pivotal in the team taking out the 2017 Lindroth Cup and was awarded the best player of the grand final.
This year Georgia was one of six Unicorn players selected to play for the Melbourne Rebels Women's squad in which she was one of the stars in the Super W series. Among her many accolades she was named player of the 2016 National Sevens Tournament; a 2018 Weary Dunlop Foundation recipient; claimed the Best Back Award for the Rebels Women's side; and to top it all off has been named in the 2018 Buildcorp Wallaroos extended playing squad.
Read more as we ask Georgia a few questions about her rugby and experiences playing with the Melbourne Rugby Club.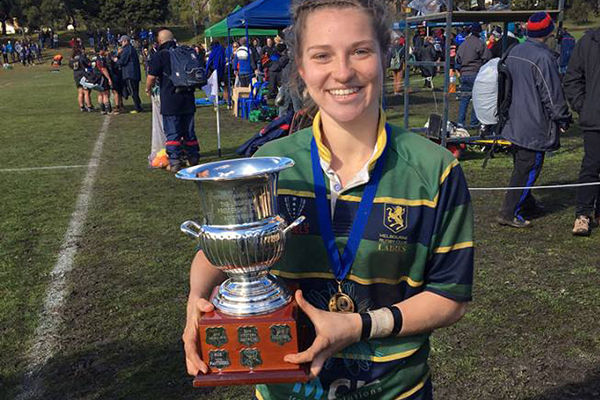 Why did you choose rugby?
I started at the age of 8 because my brothers were playing and I got sick of watching from the sidelines every Saturday. My family is from New Zealand so playing rugby is a given.
What does the new Super W series mean to you and those girls who are interested in playing rugby?
It's a good platform for women's rugby and now it's providing a pathway for us to potentially reach that international level. That's what the girls are aiming for, playing at a more elite level.
Outside of rugby what do you do?
I'm studying full time, completing my Masters Degree in Osteopathy. I've been doing that for the last five years, while also training for rugby and working a little bit on the side.
Why would you recommend playing rugby at Melbourne?
Rugby is a game for anyone – it welcomes all ages, genders, sizes and experience. It doesn't discriminate on gender, sexuality, religion or ethnicity, everyone can play no matter your background. I love rugby because your body is constantly on the line for your team mates, you build a sense of family that no other sport can replicate. Give it a go and I guarantee you won't look back. There's opportunities and pathways for girls now that can enable you to reach the top level if that's what your goal is. On the other side of the spectrum, rugby is the perfect sport for keeping fit and running around with your mates every week. I have made so many good friends for life at Melbourne.