Melbourne Rugby Club legend and Master's player Simon 'Webby' Webster has made his 400th appearance in a Unicorn jersey. To mark the occasion Webby insisted that he celebrated his milestone game against affiliated Club the Melbourne Chargers at home (even though this match was technically his 403rd game).
In a serendipitous twist in this tale Webster's son, Christopher 'Webby Jnr' (aka the apprentice), also played in his father's milestone game. Leading from the front as usual, Webby (aka the master) scored a Try and clearly was best on ground.
Reflecting on his achievements, Webby said "MRUFC is the best rugby club in the world. I've played in a team with blokes from 15 different countries – you don't get to do that in many Clubs. At its heart is a community and I'd have been proud to play one game for this club, so 400 is very special."
Having played for Redcar Rugby Club in the UK, Webby landed in Australia in 1986 and discovered the Melbourne Rugby Club in 1991. A passionate Middlesbrough fan, his voice and love of life on and off the field had Webby fit right into the Clubs' fabric.
Webby has joined a select few, with only five other players in the Club's history, playing over 400 games.
When asked what have been his most memorable moments Webby quipped, "Two 2nd Grade Premierships 10 years apart – '95 and '05 and playing in the '94 first grade Grand Final – although the result still gives me trauma."
He added, "Seeing Tommy Gunn celebrating and fist pumping when scoring a Try, only to be pinged for holding the ball on the ground – he'd 'scored' on the five-metre line and 'Two Bums' consecutive box kicks into his own players – best thing I've ever seen on a rugby pitch!"
Webby's love for the Club is unsurpassed by anyone. Webby is a true Club man and supports anybody involved at the Club.
In 2015, he was made a Life Member of the Melbourne Rugby Club. He has Captained many sides in all grades, been voted in as Club Captain and is still serving as a Committee member – something that he has done for many years.
The only appointment he has not completed is being the Club's President. No doubt something that is on his 'bucket list' to achieve (don't worry Gerry, knives aren't out yet).
Webby was instrumental in commencing the Junior program some 10 years ago and our Junior Program today is a legacy of his vision for the Club.
In 2010 Webby reignited the Masters team, known colloquially as the 'Gerries', they are stronger than ever. As the Gerries leader, he has seen the Masters competition reach high standards and Webby's leadership on and off the field has contributed immensely.
Webby has played 52 games for 1st Grade; 117 games for 2nd Grade (most as Captain); 121 games for 3rd Grade (all as Captain); 15 Games for 4th Grade (all as Captain); and over 97 Games for the Gerries (all as Captain).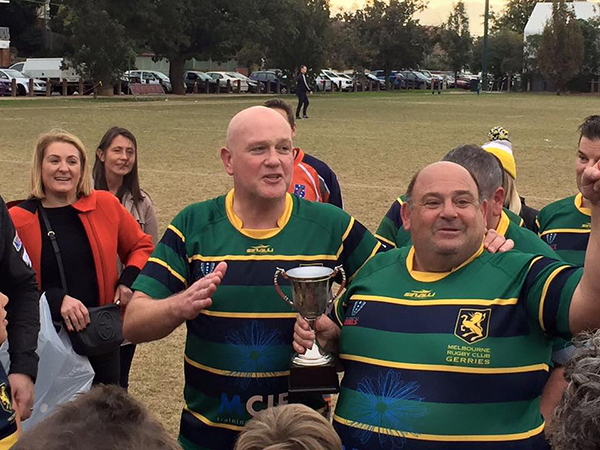 Webby, we love you, you're a true Club Man and we all look forward to playing in your 100th Gerries game this year and hopefully your 500th game for the Club in years to come.
Written by Life Member S. Iakovidis
Sponsor: