The BLK Dewar Shield Preliminary Final looked to decide who would move through to the Grand Final this weekend and face the undefeated Harlequins. The contest between Melbourne and Box Hill was always guaranteed to be a cracking contest and it sure didn't disappoint.
Box Hill acquired the first points of the day, with one of their stand outs of the year Kitione Ratu slotting the penalty.
The dry conditions at Harlequins Rugby Club provided a perfect platform for running rugby, something which Box Hill took full advantage of early on in the game.
With one of their first entrances into the oppositions 22 and off the back of a strong scrum, Box Hill maneuvered the ball through the backline and speedy winger Filipe Koroibola was able to beat two opposition defenders and score in the corner.
The Broncos then yet again showed why they were known for an exciting, potent brand of rugby this year, as they kicked from deep within the half and a difficult bounce of the ball for Melbourne allowed for the Dewar Shield leading point scorer Kitione Ratu to gather the ball and take it all the way for a five pointer.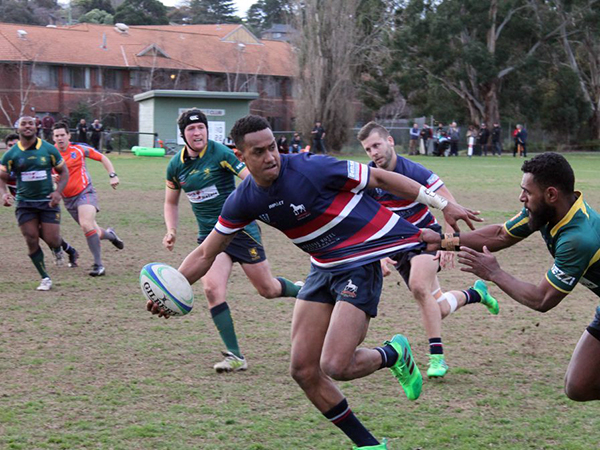 With momentum on their side, Box Hill continued to threaten the Melbourne try line, especially through the one handed offload machine Serupepeli Uru, but on a number of occasions couldn't find that last decisive pass.
Momentum was then halted as a yellow card to Joeli Baleilovu provided an opportunity for Melbourne to take advantage of Box Hill being a man down, which they did, scoring through a barnstorming run from Afa Faatau.
Box Hill then received two more yellow cards for seperate indiscretions, but despite being down to 12 men, and immense pressure on their try line from Melbourne, held out the half going into the sheds 19-10 up.
Starting off the second half, the Broncos, although still down a number of men, extended their lead again through the super boot of Kitione Ratu who drove home a penalty. Melbourne returned in kind with a penalty of their own minutes later through Deina Morete.
A poor clearance from Melbourne on their own try line allowed Box Hill to display their deadly counter attack, with Filipe Koroibola linking up with Joeli Baleilovu, who made up for his 10 minutes absence in the game with his own try for Box Hill.
With this try it looked like the Broncos were on their way to the Grand Final. Melbourne had other ideas.
Melbourne first hit back with another penalty from replacement Deina Morete. Then, after mounting pressure and off the back of a number of penalties, Melbourne forced a mistake out of Box Hill, as a failed clearance kick yet again contributed to a try being scored, but this time five points were put down for through Melbourne's Deina Morete.
This mistake and its ensuing try blew the game open and provided an opportunity for Melbourne to sneak home an unlikely win.
With the game approaching full time, Box Hill recieved another yellow card, handing Melbourne the numbers advantage and a penalty deep in the Broncos half. Melbourne then recieved another penalty and opted for a scrum five metres out from the opposition try line.
Off the back of this scrum, Melbourne rumbled the ball forward on through a number of phases in quick successoin, trying to break the dogged Box Hill defence. In the end though the numbers difference proved to much, with big Melbourne Centre Afa Faatau crossing for his second try. And in the process securing a Dewar Shield Grand Final return for the defending champions Melbourne.
Melbourne will now head to the big dance this coming Saturday 19 August at Box Hill Rugby Club to face the might of the undefeated Harlequins.
Final Score:
Melbourne 30 def Box Hill 27
Source: Rebels Media Unit