Despite the loss to Harlequins in the BLK Dewar Shield Grand Final on Saturday, Melbourne had a good day on the field taking home a total of four Victorian Rugby Premiership flags.
Grand Final day started well in Division 3 where Melbourne just scraped home against a dogged Kiwi Hawthorn side to win 17-15. Premier 3 won their third Premiership in a row (and seven of the last eight) with a convincing win over Box Hill 22-7. After qualifying through a Preliminary Final last week, the Women's team hung on to defeat Melbourne University 19-17. And to top off a successful lead up to the Dewar Shield Grand Final, Premier 2 made up for last year's narrow loss to Harlequins recording a popular 24-14 win.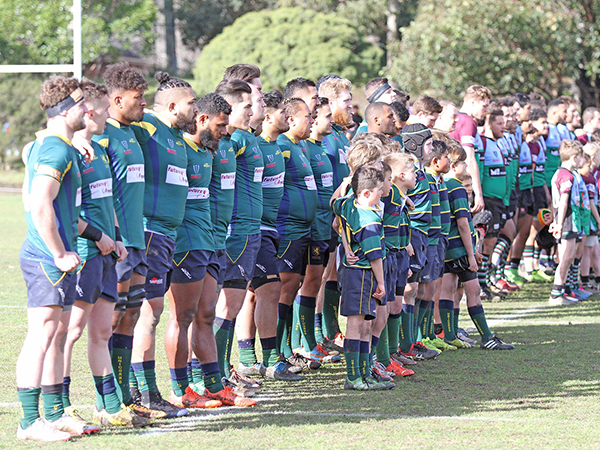 FAST FINISHING MELBOURNE FALL SHORT IN DEWAR SHIELD GRAND FINAL
Harlequins has won its fourth Premiership in eight years with a convincing 38-20 grand final win over the Melbourne Rugby Club. The best team in the Dewar Shield competition all season was caught in an early arm wrestle with its closest rivals, but ultimately ran over the top of the Unicorns on the way to a perfect season.
Clearly the pressure didn't affect Harlequins, with the 18-point victory shading their 33-25, 38-24 and 31-24 wins over Melbourne throughout the season, and affirming their standing at the top of the competition.
Melbourne Head Coach Tumai Edwards said in the lead-up that his side couldn't afford to find themselves chasing the game, but that's exactly what happened as they found themselves on the back foot.
It was a scoring blitz in the lead-in to the break that gave Harlequin their biggest lead of the match, a 26-3 advantage after 40 minutes, handing Melbourne a mammoth mountain to climb in the second half.
Melbourne didn't give up, piling on the points straight after the break to narrow the margin to just 13 points.
The sides traded five-pointers after that and a superb intercept try from Melbourne gave them a major sniff, and some handy momentum as full-time loomed.
Harlequins, though, found another gear as they have all year to hold off the fast finishing Unicorns and complete an unblemished 2017.
The championship victory puts Harlequin on level-pegging with Melbourne in premierships in recent years, with the teams sharing four each in the past nine years. Melbourne can still claim some bragging rights with a total haul of eighteen Dewar Shield titles since 1909.
Final Scores:
Premier 1 (BLK Dewar Shield)
Harlequins 38 def Melbourne 20
Premier 2
Melbourne 24 def Harlequins 14
Women's
Melbourne 19 def Melbourne Uni 17
Premier 3
Melbourne 22 def Box Hill 7
Division 3
Melbourne 17 def Kiwi Hawthorn 15